Food drive or fundraising event
If you (or your group) are planning to organize a food drive please contact us prior to the event. We will provide you with a list of most needed items. Please make delivery of your donation part of your food drive plan.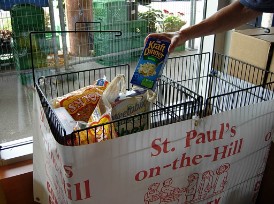 Where can I drop off individual items?
Many local grocery stores have collection bins located prominently in their stores. When you are grocery shopping, please consider including food for the food bank and drop your donations in the bin on your way out. For larger donations, please deliver the donation to our site: Parkway Storage 1535 Pickering Parkway during their business hours. Buzz the manager's office at the main gates. (Mon-Fri 7 a.m. to 8:30 p.m.. Sat-Sun 9 am. to 4 p.m.). You can also email us for more information.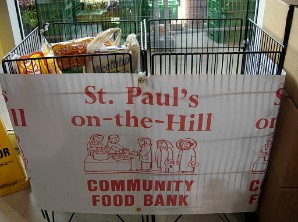 You will find bins in the following locations:
Allan's Independent Grocer 1900 Dixie Rd., Pickering
Kingston & White's Freshco 650 Kingston Rd., Pickering
Sobeys 1899 Brock Rd., Pickering
Sobeys 260 Kingston Rd. W., Ajax
Sobeys 955 Westney Rd. S., Ajax
Loblaw's Market Place 1792 Liverpool Rd., Pickering
Metro 1822 Whites Rd., Pickering
What can I donate?
The food bank accepts all non-perishable items. Please ensure that donations are in good condition and not past expiry or best before dates. We also accept personal hygiene products, household cleaners and paper products. If you are not sure what to donate, contact us and we will be happy to advise you or check the Current Needs page on this site.
Financial Donations
Financial donations are gratefully appreciated. All money raised is used to cover general operating expenses which include rent, telephone, equipment upgrades and improvements. The food bank also provides fresh milk and eggs for our clients every week and we purchase any food items needed between food drives.
The food bank is staffed entirely by volunteers; there are no paid staff. 100% of funds raised are used for food bank operations.
Tax receipts will be issued for donations exceeding $10.
Donations received AFTER December 15th will be issued a tax receipt dated the next fiscal year.(regardless of the cheque date).
Charitable #: 119 196 111 RR0001
If you prefer, you may make a donation on-line through PayPal here.
Please make cheques payable to:
St. Paul's on-the-Hill Food Bank
c/o 882 Kingston Rd., Pickering On L1V 1A8
Attn: Mrs. P. Bennett