News and Events
Had a fundraising event?
Tell us about it (including photos) and we'll post it here.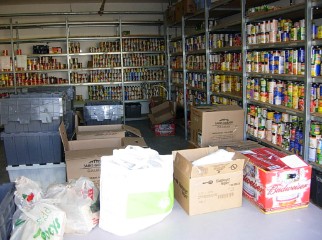 Congratulations Knights of Columbus, St. Isaac Jogues, Pickering on anather successful pasta dinner and Bingo night. Thank you for your ongoing support.
                                              "Great to be able support our community partners                                                          at St. Paul's on the Hill Community Foodbank with a Cheque for $ 500.00!"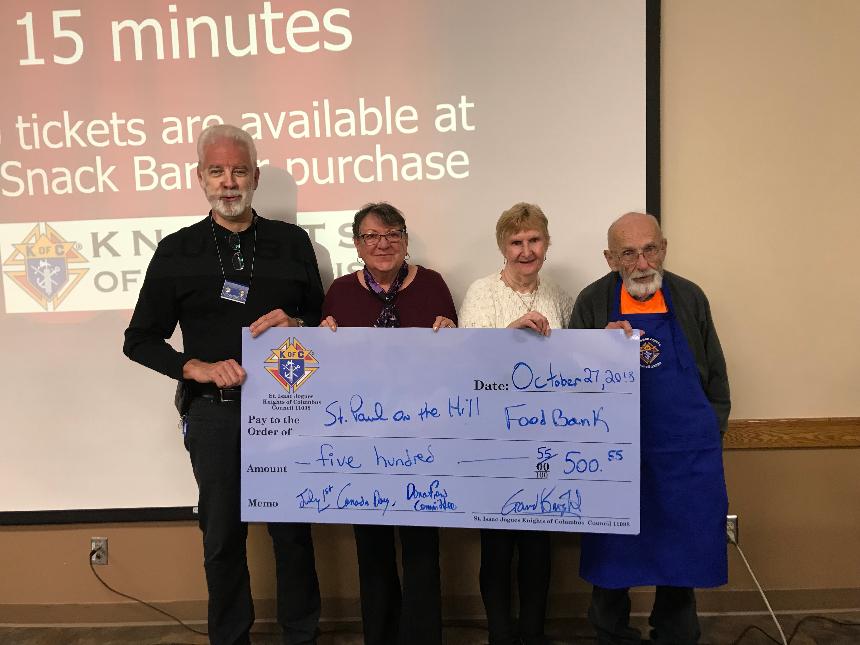 The expansion project has occupied a lot of our time!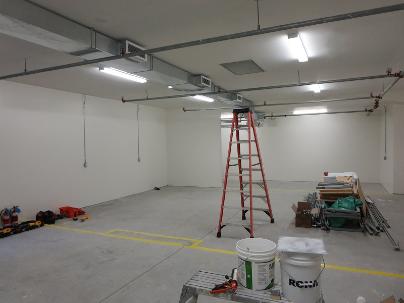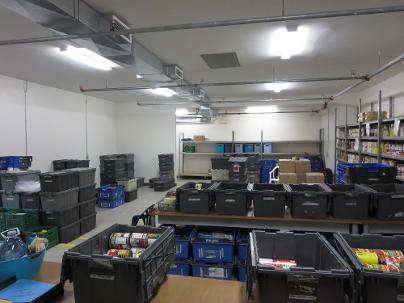 July 26th at Glen Cedars Golf Club
Thank you to everyone who participated in our 8th annual golf tournament organized by the Pickering Squash Club. The money raised goes towards purchasing food items that we need throughout the year. Our shelves are often bare during the summer months especially for items such as cereal, milk, eggs, tea and coffee. The funds allow us to purchase what we need when we need it. When we buy as we need, we have better control of food quality and we do not need to worry about warehouse storage. This year the golf tournament raised over $9000.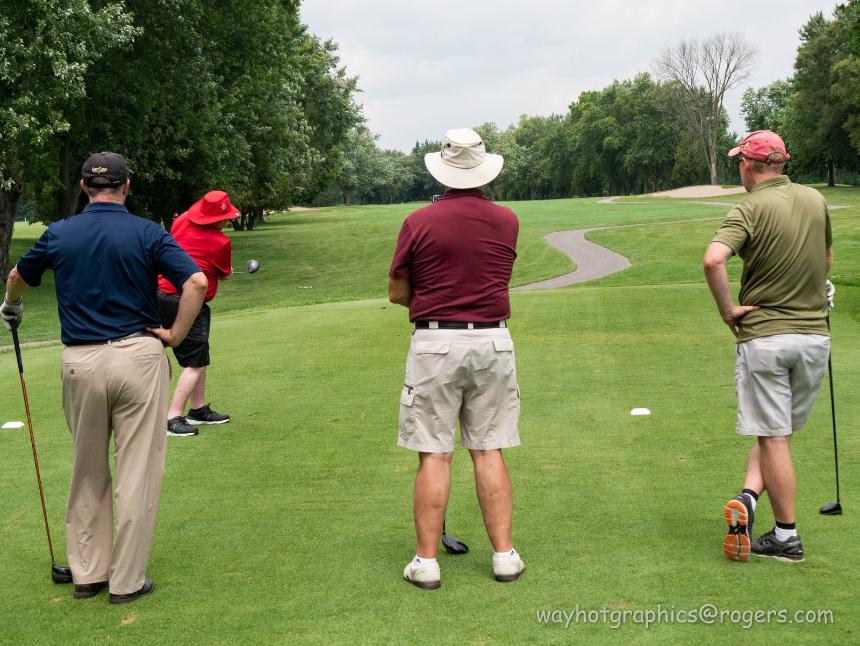 Here are some of the ways our community supporters help the food bank......
Stuff A Truck
On Saturday December 17th, Sobeys (Brock Rd) customers and Pickering Fire Fighters stuffed a truck with non-perishable food items and donated over $800 in grocery gift cards. Thank you to Nick (Sobeys Manager) and Steve (PFF) and all of the customers who contributed to this event.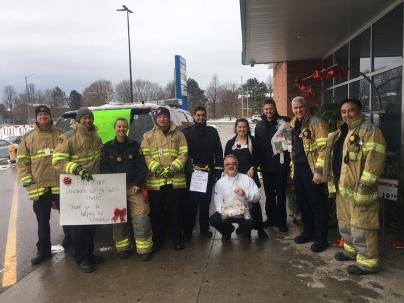 Christmas Raffle
Management and Staff at the CIBC Glenanna & Hwy 2 branch raffled off Christmas baskets again this year and raised $1000 for the food bank. Thank you to Josie Moncada, General Manager and staff for helping the food bank. And a special thank you to Katherine for making up the raffle baskets.
Holiday Luncheon
On December 3, the Pickering Islamic Centre hosted a delightful holiday luncheon for food bank volunteers, supporters, clients and neighbours. It was a wonderful way to kick off the season of giving and sharing. Thank you to the many hands who prepared and served the food to over 160 friends and family.
Pictured here: Councillor Shaheen Butt with some guests from the community.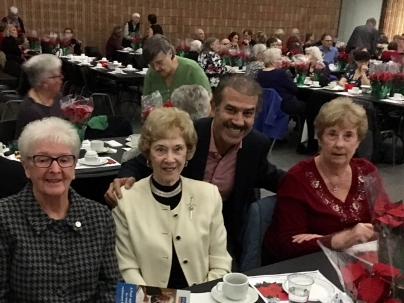 Dinner & Bingo
Proceeds from the monthly Pasta Dinner and BINGO night in November were donated to the food bank. Thank you to the Knights of Columbus, St. Isaac Jogues, for once again hosting and running the event. Presenting the cheque from the Knights to Margaret Jocz (centre) are: left to right... Moe, Claude, Allan & Chris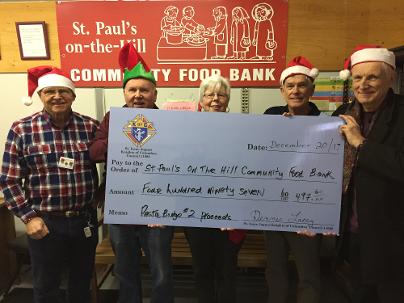 November 25
KiEvents is holding its 2nd Annual Ki-Events Kidsmas Party*, a FREE Kids Chritmas Party at The St. Nedela Banqet Hall in Ajax. Click here. https://ajax.snapd.com/events/view/1094058 to see how you can join in on the fun with family and friends and support the food bank.
November 25
BINGO & Pasta Dinner night at St. Isaac Jogues Catholic Church 1148 Finch Ave. Pickering, hosted by the Knights of Columbus . Each month the Knights hold the event and donate the proceeds to a local charity. We are the charity of choice for November, so come out and have fun supporting your local food bank with a chance to win $500. Click below for all the details.
Sunday, December 3 @ 1:30 p.m.
All are welcome, so come and enjoy a free community Holiday Luncheon hosted by the Pickering Islamic Centre at
2065 Brock Road, Pickering
Please RSVP to ssbutt@sympatico.ca or call (416) 402-6594 by November 27.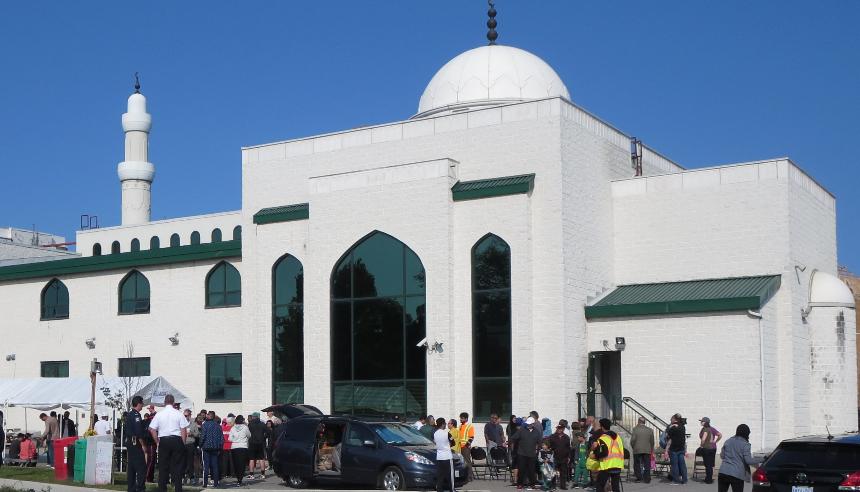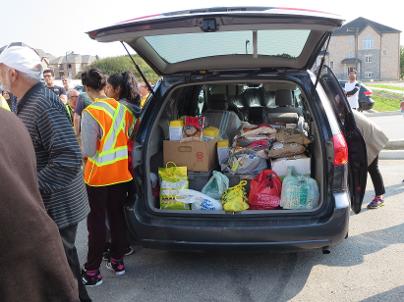 Over 100 participants in the First Annual Pickering Islamic Centre walk for the foodbank on September 9 enjoyed sunny skies and cooling breezes - perfect conditions. The event was attended by a cross-section from the community ranging in age from 3 months to senior and representing various faiths. Durham Regional Police and Pickering Fire members were on hand to remind us about walking safely.
By this time of the year, our food stocks are running low so we are grateful.for the early start to our food drive season. Thank you to the members and volunteers from the Islamic Centre who did such a great job organizing the event and encouraging participation.
Pathfinders and Scouts support local food banks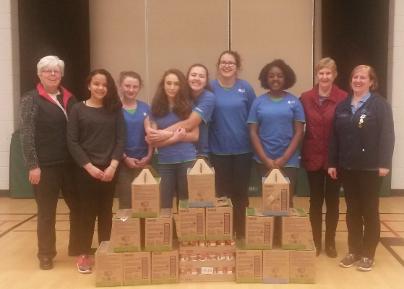 8th Ajax Pathfinders Easter Food Drive
8th Ajax Pathfinders plus 10 Ajax Girl Guides collected over 250 food items from September to April for the food bank. During this time the girls learned about poverty and homelessness in our community. Well done, girls!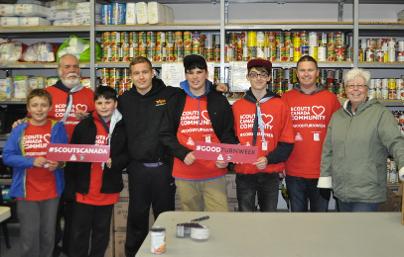 2017 Great Pasta Challenge
Many thanks to the Pickering 7th Scout Group for organizing another successful food drive on behalf of local food banks. Over 1000 items (pasta, sauce and canned pasta) were collected from selected drop locations throughout Pickering. Scout Leaders Al and Allan along with scouts delivered the donation to SPOTH Food Bank and House of Hope/Salvation Army in Ajax.
ALLAN'S YIG CUSTOMERS ARE TOPS!!
Thank you to all the customers who donated money to the food bank and in particular to Tyler and Karrie Allan for matching the donations made by their AWESOME customers. The food bank greatly appreciates all the support we receive from Allan's YIG customers and owners throughout the year.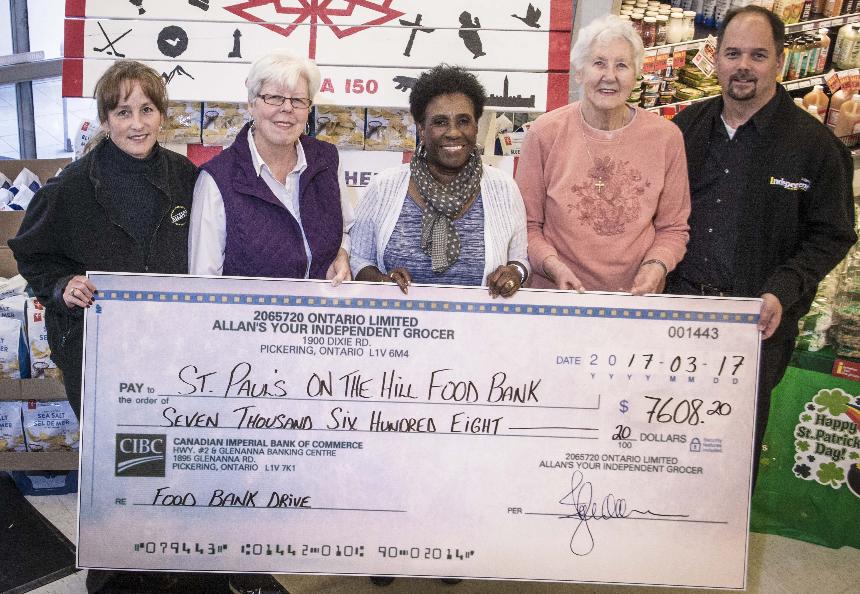 Food bank volunteer Pat Bennett receives recognition for her 20 years of service from Tracy MacCharles, MPP, Pickering-Scarborough East.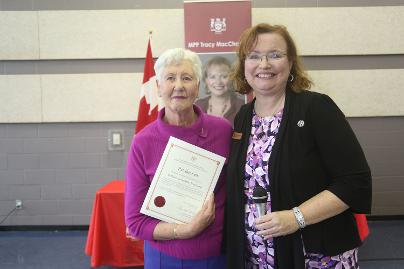 January 2017
Some Community Christmas Fundraising Events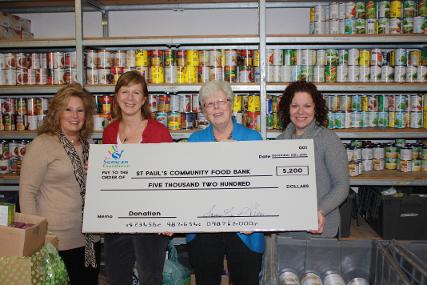 On-Line Auction raises $5200
Margaret Jocz and Cindy
Coccimiglio
receive a cheque on behalf of the Food Bank from Jayne Gray and Kim Bowen, The Somcan Foundation
CIBC Christmas Raffle
CIBC staff at Glenanna Branch raised $650 with their annual basket raffle.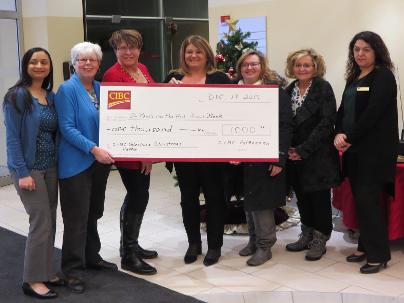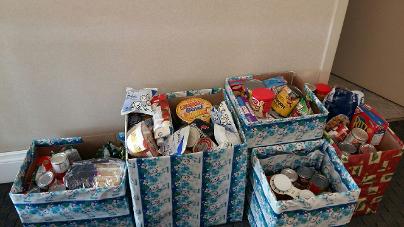 Thank you to everyone who participated in a food drive or fundraising event in support of the food bank in 2016.
ANNUAL CHRISTMAS LUNCHEON

The Pickering Islamic Centre invites YOU to its 2nd Annual Christmas Luncheon. This is a wonderful opportunity to meet new friends and share a traditional Christmas dinner with all the fixings.

Date: Sunday, December 18, 2016 @ 2 p.m.

Place: Pickering Islamic Centre, 2065 Brock Road N, Pickering

RSVP: Shaheen Butt 416-402-6594 or email ssbutt@sympatico.ca


Click here for details (Flyer)
Knights of Columbus Pasta Bingo 2016
Here is your chance to enjoy a pasta dinner, play BINGO and support local charities in your community. The third Saturday of each month join others at St. Isaac Jogues Catholic Churh at 5:45 for dinner and BINGO at 7:00. Saturday mass begins at 4:30 p.m.
October's game is in support of St. Isaac Jogues' Refugee Committee and in November, the support comes to St. Paul's on-the-Hill Community Food Bank. Click here for more information about this fun event.
Thank you to the Knights of Columbus for hosting this fund raising event and all the support they provide to our food bank and the community throughout the year.
Bay Ridges Charity Golf Tournament - August 13, 2016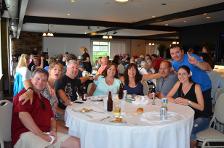 On a very WET August day, 96+ brave souls set out to raise funds for our food bank at Annandale Golf Course. See the note below by organizers Bruce, Joy and Kyla. Thank you to everyone who participated and raised funds for your local food bank. Below is a portion of the letter sent by Bruce to his golfers……….
"Thank you one and ALL!! WE DID IT!! We raised over $4400 for our deserving Pickering/Ajax community and St. Paul's on the Hill Food Bank... Rain or shine WE did it! :)
Words fall short in thanking all of you who golfed (or tried to, lol), Sponsored, Donated, Participated, and Passed on the Bay Ridges 1st Golf Tournament, through the grape vine resulting in such successful, fun and meaningful day. Thank you for all your contributions and assistants!

Due to the weather guy actually being correct for once, 96 of us did not complete the course... Way To Go on those who completed the course!"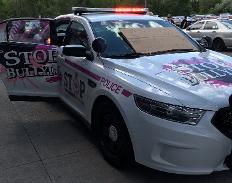 Thank you for Cramin' a Cruiser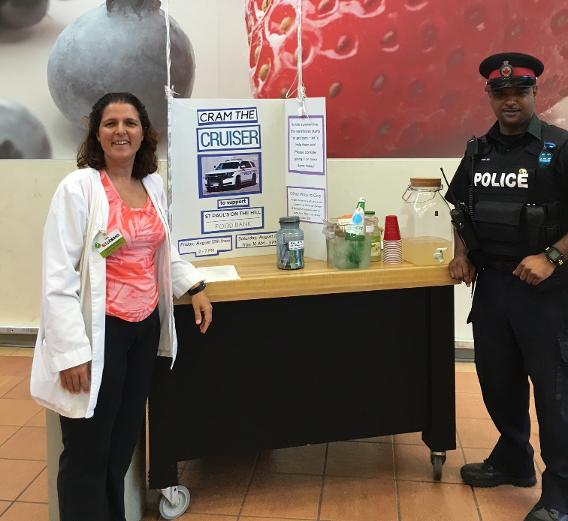 Here's what
Lisa Ireland, B.A.Sc., RD,
Registered Dietitian at Loblaws Pickering had to say about this event:
"We crammed the cruiser twice! Friday night the police officer emptied the cruiser at the food bank (Thanks Officer Hussain).
Saturday, we had to rearrange things even more to make them all fit – there was food stuffed everywhere! It was full! Amazing generosity from our community!!! We didn't have room to get the donations that were left in the bin that always stays in the store because the cruiser was too full! Randy (a food bank volunteer) picks this up often.
We also raised just over $600 for the event, which went to the food bank directly at the end of the day. They buy eggs and milk & other items when needed and supplies are low. Look for pictures in September's Snap (hopefully) and the Pickering News Advertiser. We had volunteers from the foodbank, some nutrition students and other volunteers from the community.
Thank you for your support in this event!
Pickering Sqash Club Golf Tournament July 21 in support of St. Paul's on-the-Hill Food Bank
$10,943.00 raised for your food bank!
Thank you Pickering Squash Club for sponsoring the golf day in support of St. Paul's on-the-Hill Food Bank. This is the 7th year that the Sqash Club has organized this great golf day and donated the proceeds to the food bank's operating expenses. 123 golfers enjoyed a (hot) round of golf, BBQ lunch and roast beef dinner.
Investors Group Financial, Pickering provided refreshing Ceasars to the golfers and also held a chipping contest. Money raised from the contest was donated to the food bank. Thank you Gina Love and your team for your contribution again this year.
No golf tournament can be a success without the support of the community and hole sponsors.
Thank you to this year's hole sponsors:
Allan's Your Independent Grocer
Aquafor Beech Ltd
Bayfield-Pickering Limited
C & S Logistics Solutions Ltd.
CUPE Local 29
Forest Contractors Ltd.
IBEW Local 353
Investors Financial Group
McEachnie Funeral Home
Newcastle Funeral Home
Ontario Power Generation
Remax Crossroads Realty, Luke Makris
Veridan
VicDom Sand & Gravel
Thank you also to the businesses and individuals that donated gift cards and other prize items for our golfers:
Bollocks Pub and Kitchen
Glen Cedars Golf Club
McLellan Contracting
OLG Slots at Ajax Downs
Pickering Town Centre
RJ Burnside & Associates Ltd.
Raymore Exteriors
Spring Creek Golf Course
That 50's Diner
VIVA Pickering Retirement Community
Pickering fire fighters lend a hand
Fire fighters from several Pickering stations showed up at Allan's Independent to slug boxes of food and deliver the order to the food bank. Thanks to everyone for the help!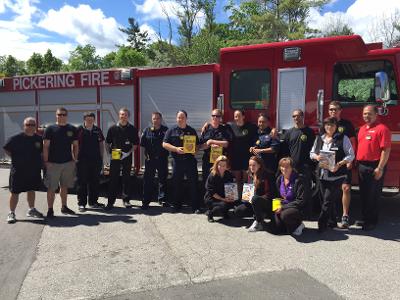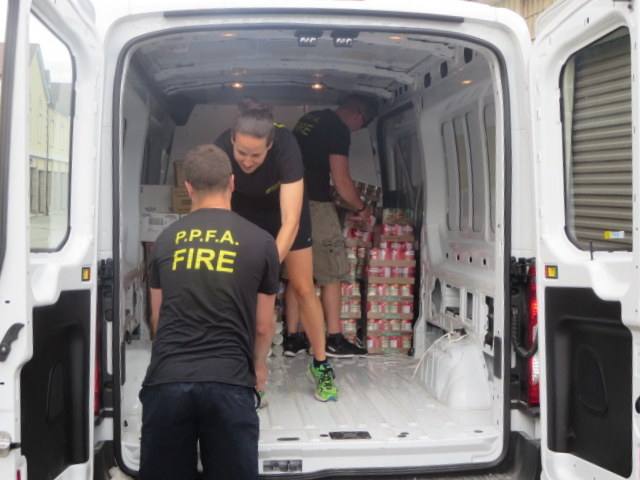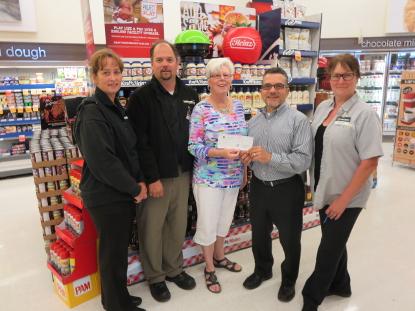 Allan's YIG recently won the Kraft Heinz Fall 2015 Cheesefest Contest. The $1000 prize was donated to the food bank. Presenting the cheque to food bank Director Margaret Jocz is Kraft Heinz representative Peter Martino, Allan's YIG grocery manager Lynne Travis, Karrie and Tyler Allan.
Community Event
St. Paul's on-the-Hill Community Food Bank extends you a personal invitation to join us to discuss the Hunger Problem Growing in Our Community.
Over the past 25 years we have seen a consistent increase in the number of individuals and families going hungry in our community. Our Food Bank requires a new building and consistent funding to meet the growing needs. Your support is critical to help us develop a sustainable plan for the future. Please plan on attending to learn how you can help.
This event takes place on Thursday, April 7th from 6:30 to 8:00 pm at the Petticoat Creek Library, 470 Kingston Road, Pickering. Refreshments will be served.
We hope you will support your food bank.
Please confirm attendance by April 1, 2016 to: erin.spothfoodbank@gmail.com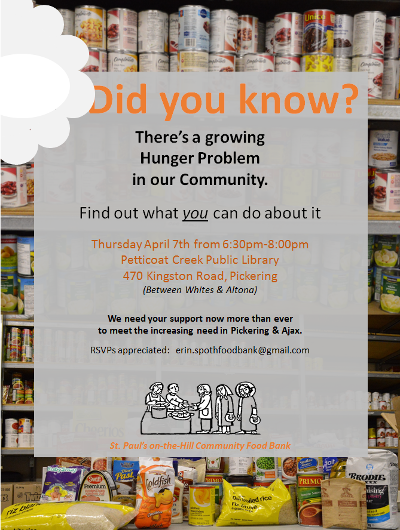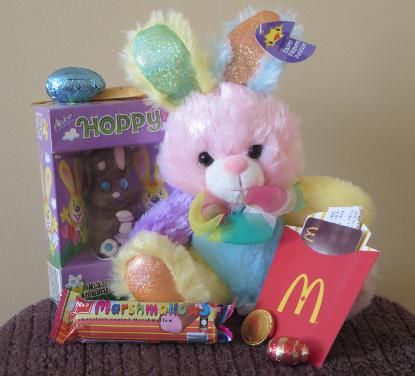 Easter Treats for the Children
125 children ages 3 – 12 received a special treat this Easter week. Each child received a chocolate bunny and eggs along with a gift certificate for a Happy Meal at McDonalds. Children under 3 also received a stuffed bunny to cuddle.
Thank you to the congregation of St. Paul's on-the-Hill Anglican Church and residents of Chartwell City Centre, Pickering. A special thank you Michelle Brochu, Jacquie James and SPOTH kids and families for collecting the donations after each service.
The food bank volunteers and clients thank you
….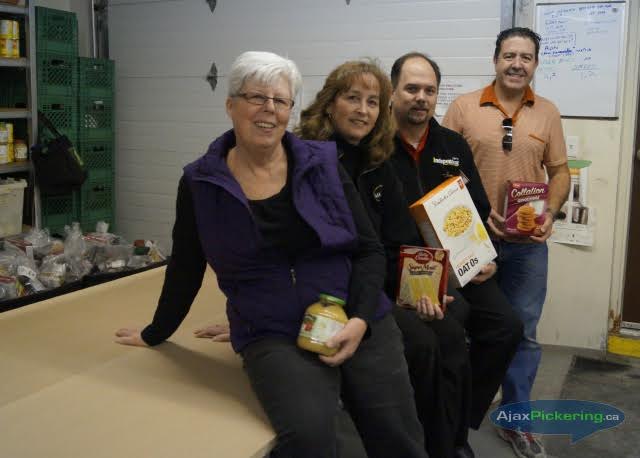 THANK YOU THANK YOU THANK YOU
Last week the food bank received a wonderful donation from two community supporters.
Allan's Your Independent Grocer in Pickering (Tyler and Karrie Allan) donated materials for 2 work station tables and Remodel Construction Company (Chris Clarke) donated the work hours to build them. The food bank volunteers truly appreciate having a stable, strong and safe working environment.
Thank you Tyler, Karrie and Chris for partnering with the food bank and helping us help the community.
Photo - Courtesy of AjaxPickering.ca Pictured from left: Margaret Jocz, Karrie Allan, Tyler Allen, Chris Clarke
January 2016
Garnet Ferguson receiving his Volunteer Recognition Award, presented by MPP Tracy MacCharles.
Garnet has been volunteering with St. Paul's on-the-Hill Food Bank since 2002. Garnet is one of 6 men who do all of the heavy lifing at the food bank. Not only is he a great team player, he also works independently on other projects at the food bank. He is our Jack of all trades. He can fix the clocks, hang a picture or repair the fridge. He also builds the donation boxes that we use to collect food items at some of the grocery stores. Garnet is the type of volunteer that any organization would be happy to have and we are so glad that he works with us.
Thank you Garnet for ALL your help.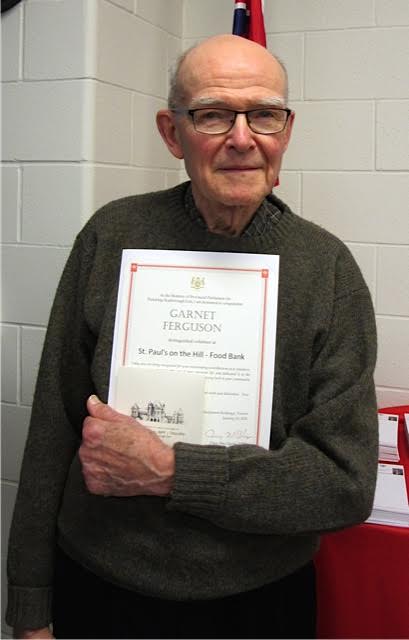 December 2015
Thanks to Tyler & Karrie Allan of Allan's Independent and their customers for the very generous donation of $9,669.58 collected during the annual Thanksgiving Food Drive. Instead of collecting food donations this year, customers were asked to make monetary donations which were matched by the store owners. The response was incredible with customers donating $4834.79 in just 9 days! Accepting the cheque on behalf of the food bank (below left to right) Janet Laughlin, Janet Herrera and Margaret Jocz. To see a video of this occasion please click here.
We are so grateful for the fantastic support from Allan's Independent. We could not continue to operate without the solid support of our community.
November 2015
SPAGHETTI DINNER & BINGO!! for the FOOD BANK.
On the last Saturday of each month The Knights of Columbus have a spaghetti & bingo night with the proceeds supporting local charities.
Our night is Saturday, November 28
Location: St. Isaac Jogues Catholic Church (Hall)
1148 Finch Ave, Pickering
Time: Dinner @ 5:30. (after the Mass @ 4:30)
Cost: Dinner & 1 Bingo Strip Package $15.00
Dinner, 2 Bingo Strips & 1 Toonie Draw Package $20.00
Note: Must be 18 or over to play Bingo. Children are welcome for dinner. Supervised activities will be available.
September 2015
It is hard to believe that the summer is over and the kids are going back to school. We have been so busy at the food bank we have not had a chance to tell you what has been happening.
In May, we received a Group Service Award from the City of Pickering. This award is presented to members of the community for outstanding service and achievements during the past year. We are honoured to have our service to the community acknowledged and we proudly display the medallion and certificate in the food bank reception area.
July 16th was the date of our 6th annual golf tournament at Glen Cedar Golf Course. This year our major partner/supporter was Investors Group Financial and with them and many other dedicated supporters and golfers we raised $16,600. for the operation of the food bank. Over the past 6 years, this event has raised $73,500. Click here for the link to see pictures (thank you SNAP) of this very important day.
Summer means gardening and we are so pleased that there are many gardeners in the community who remember the food bank and donate fresh produce throughout the growing season. We receive fresh caliloo, spinach, beans, beets, lettuce, tomatoes, zuchinni and MORE every week. Thank you for your green thumbs. Special thanks to Whitby-Ajax Community Gardens, Nautilus Gardens/OPG/ and everyone who drops off veggies to us. Your generosity is appreciated.
That is the good news…now the not so good.
True, we have fresh vegetables but we also have bare shelves. Our last major food drive was at Christmas and although donations do trickle in during spring and summer, there are not enough to keep our shelves full. We have had to adjust the amount of food we provide to clients due to limited or no food items on our shelves. While we shop for items that we desperately need, our shopping trips will not replenish our supplies the way a good food drive will.
The number of clients reaching out for assistance grows each day we are open. In 2 hours we can have 6 new families register with us. On August 25, our volunteers managed to serve 61 clients in 2 hours! To say we were tired by the end of the shift is an understatement. But we did it.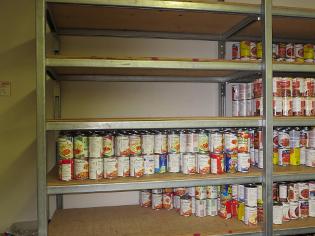 Thanksgiving is our next holiday food drive and we hope you will show your gratitude for what you have by sharing with those who have less. But please do not wait until Thanksgiving to share; we need the food now. So visit our Needed Items page and make a purchase when you shop for your family. You can drop off small amounts of food in our bins at participating grocery stores in Pickering and Ajax (see the list). Larger donations may be dropped off at our site location (1535 Pickering Parkway). To make arrangements please contact us by email for instructions.
June 2015
SUMMER IS HERE
Summer is here and the kids are home from school. This means that they will have their heads in the fridge and cupboards looking for food ALL day. In many homes that is not a problem but when you are experiencing food insecurity it is.
The food bank is also experiencing food insecurity. Our shelves are becoming spare to bare. No peanut butter, canned spaghetti, and much more. It is amazing to think back to Christmas time when our food bank was full to bursting with food donations. But after the Christmas rush, donations start to dwindle and very little comes in to restock our shelves. This requires us to reduce the amount of food we provide to families so we can stretch out the stock and wait for the next big food drive…that would be Thanksgiving.
Meanwhile we shop at local grocery stores to refill our shelves using money donated throughout the year. In 2015 we have already spent approx. $5000.00 on groceries. We regularly buy milk and eggs but we have also had to purchase cereal, canned fruit, canned pasta, stew, peanut butter, crackers, cookies , tea, coffee, sugar and rice. (We never have to buy Kraft Dinner!).
Please don't forget the food bank this summer and donate when you are able. If you are planning a food drive, visit our current needs page and contact us about delivery.
Thank you for your support and have a great summer!
We are 25!!!
In 1990, many families in Pickering and Ajax were feeling the adverse effects of a widespread economic recession. As a temporary measure, members of St. Paul's on-the-Hill Church decided they could help families in the community by opening a food bank. Prior to that date the food bank was operated through Dunbarton-Fairport United Church.
It was intended to be temporary but unfortunately we are still operating and over the years, the number of people relying on the food bank has continued to grow. In 2014 we served 3500 families representing 9750 people.
Through the years, the community has supported us by donating food, organizing food drives and providing financial support. Even though the food bank is run entirely by volunteers, money is still required in order to operate. Our annual operating expense of approximately $65,000 covers rent, perishable food (milk, eggs and potatoes each week) and general operating expenses.
This year we are faced with another challenge. We have outgrown our current space and we need to decide if we can renovate our site to meet our needs or find other solutions. Our preference is to stay where we are since our location at Parkway Storage provides many advantages. But whatever changes are made will require funding so we are starting a fund raising campaign for this purpose.
Our major event will take place on Thursday July 16, 2015. St. Paul's on-the-Hill Food Bank 6th Annual Golf Tournament will be held at Glen Cedar Golf Club, Pickering (click for details). You can be a golfer, a hole sponsor or make a donation of any amount.
On behalf of our clients, the Food Bank executive and our faithful volunteers, thank you for helping us help local families in food crisis.
March 13 was a busy day at the food bank. It was crowded and noisy with clients coming in for food assistance before the March Break. The kids will be home all week and hungry ALL day. This puts added stress on the food budget and the many moms who depend on the food bank to feed their kids. Thank you for your help by donating healthy food to our food banks.
Amongst all the mayhem was a happy story. William had his 5th birthday last week and instead of asking for toys and presents, he asked his friends to bring food for the food bank. William learned about sharing from school and his parents and on Friday he and his younger brother helped his dad deliver boxes of food. Thank you William for your kind and generous heart. Happy Birthday!
If you are celebrating a birthday, anniversary or any special occasion, please consider following William's example and ask friends and family to donate to a food bank instead of you!
Happy Easter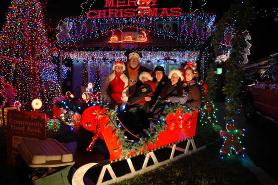 Once again, Wright's Lights will be lighting up the Pickering neighbourhood this Christmas season. Enjoy the spectacular light show and bring a donation for the food bank. Click here for more information.
Merry Christmas!
5th Annual Golf Tournament
We raised $11,200 from the event held at Glen cedars on July 17. Thanks to all participants, donors and supporters.
Pictured right: Grant Bridge, Kevin Cahill - Golf Tournament organizers; Margaret Jocz - Food Bank Director; Dave Ryan - Mayor of Pickering.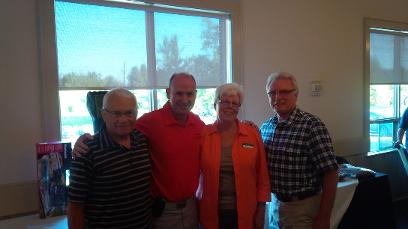 Pickering Cares held its 5th annual food drive on Saturday May 10th. This one day event collected 8000 lbs. of food which was shared between us and House of Hope Food Bank in Ajax. Thank you to the organizers at Amberlea Presbyterian Church, members of the community for their donations and all of the volunteers who worked so hard collecting, sorting and delivering the food to the food banks.
No matter how successful a food drive is or how generous people are with donations, we always need something. This year's Christmas donations were so abundant that I thought for sure we would be able to manage until the spring. Well, spring is here and some of our shelves are getting bare.
If you are planning an Easter Food Drive or making a donation at your local grocery store, please see our Current Needs page for suggestions. We are in desperate need of canned vegetables, canned fruit, canned pasta (alpha-getti), pasta sauce (no dry pasta please) peanut butter, and luncheon snacks (granola bars, etc.)
In the first quarter of 2014 there has been a 19 % increase in the number of people turning to the food bank compared to 2013. Please remember those who need help within your community.
Two Food Bank stories:
Jonah is 8 yrs old. He created origami animals and sold them to friends and family. He raised over $55.00 and brought the money to the food bank. The money was used to buy school snacks for children.
Jack celebrated his 8th birthday but he did not want gifts for himself. Thirty friends and family members wished Jack a happy birthday by donating needed items to the food bank.
What thoughtful kids!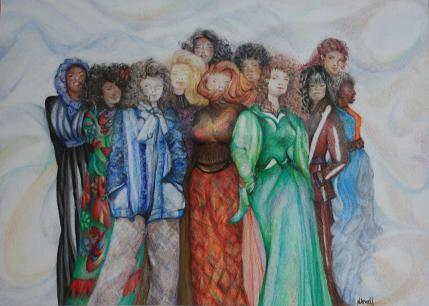 We receive many expressions of thanks from clients at the food bank and they are occasionally accompanied by gifts but we've never received anything like this.
Nancy Howell is a food bank client and a local artist and she has created a spectacular piece entitled 'Food Bank Angels'. In the artist's words: "This pencil drawing began with just three SISTERS. I continually watch in admiration the Volunteers with St. Paul's-On-The-Hill Anglican Church Food Bank. These Front Line Workers treat with respect and dignity everyone, no matter how overwhelmed, embarrassed, frustrated or upset they are to be in this position of need. This piece incorporates the varied personalities which have touched my heart allowing my SISTERS to grow! This drawing pays homage to these Angels."
The image shown does not do it justice. You will have to visit the food bank to completely appreciate it. The beautifully framed piece will occupy a place of pride in the reception area where it can be enjoyed by all visitors and volunteers.
Ron Svajlenko, President of Unifor Local 222 presented a cheque to the food bank in December. The food bank greatly appreciates the support it receives from Local 222.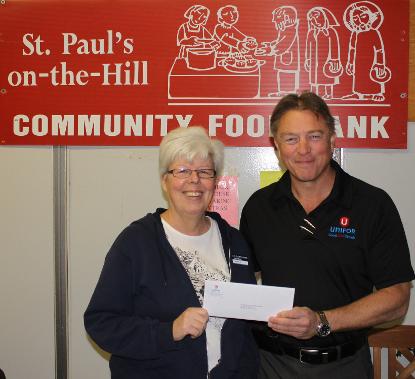 Karrie and Tyler Allan (Allan's Your Independent Grocer) receive a plaque of appreciation for their continued support of St. Paul's on the Hill Food Bank.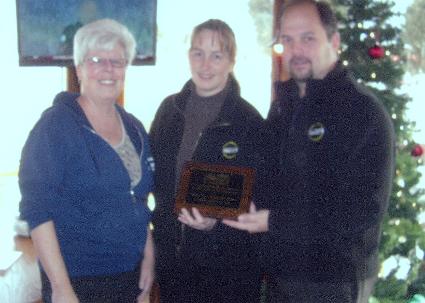 A Clock Tower of Food
On October 10 the City of Pickering held "Your City" event at the PTC. The staff of the City Development Department constructed a replica of Pickering's clock tower from food items. The food was donated by Allan's Your Independent Grocer and given to our food bank. Thank you to the City of Pickering, the Pickering Town Centre and Karrie and Tyler Allan of Allan's Independent Grocers.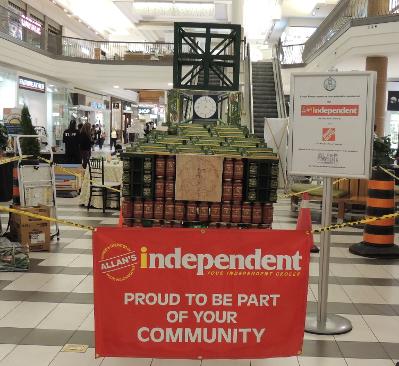 Brooklin Outdoor Movie Night for Hunger
This event was held on September 6. It was a HUGE success with an estimated 1500 people in attendance and 70 large bins collected totaling over 3000 lbs of food for the food bank. Special thanks to:Cheryl Gordon, Joanna Haber and all the volunteers and participants who made this event such a great success. Thank you so much!
Official opening of the 2013 Farmers Market at Pickering Town Centre.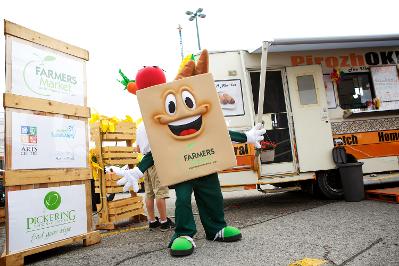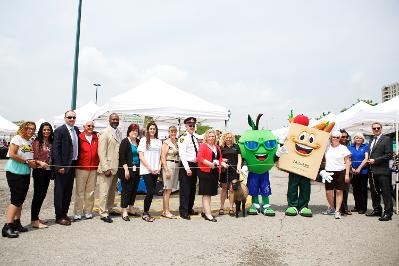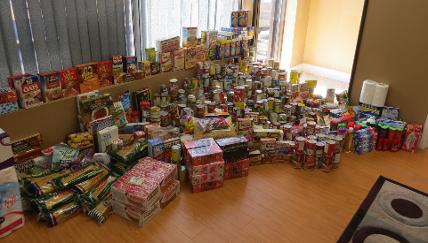 Eagle Water of Pickering Inc. held its grand opening on May 7, 2013. As part of their community outreach, a food drive was held on our behalf. We appreciate their support and wish them every success in their new venture.
Cathy and Craig Taylor of The Works Gourmet Burger Bistro, Pickering with Margaret Jocz celebrating their grand opening in May. Congratulations and thanks for your support!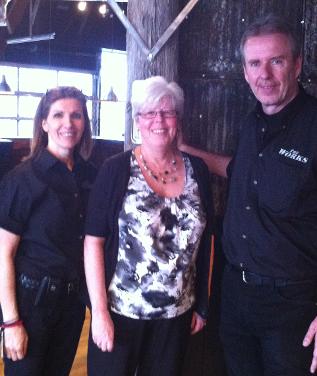 MAY 2013
Pickering Cares 4th Annual Food Drive
A big THANK YOU to Pickering Cares organizers and volunteers for another very successful food drive.
An even bigger THANK YOU goes out to the residents of Pickering who continue to support our local food bank. This year you donated over 6,000 pounds of food on behalf your neighbours who need food assistance.
We are truly grateful.

New Community Partners
St. Paul's on-the-Hill Community Food Bank welcomes Sun Life Financial and The Works Burger Bistro as our newest community partners. Both companies are supporting the food bank with food drives and contributing to other events.
JANUARY 2013
A big "thank you" to the community for its strong support throughout the year but particularly during the Christmas season. Thanks to the numerous food drives that took place in December we have enough food to last us for several months.
2012 saw an 18% increase in food bank use over the previous year. Since 2002 we have experienced a growth of 47%. The following chart compares the numbers of people we assisted in each year. Unfortunately, the need for the food bank is not diminishing so your continued support is greatly appreciated.
| | | | | |
| --- | --- | --- | --- | --- |
| Year | Visits per household | Number of people assisted | Adults | Children |
| 2002 | 1230 | 4131 | 3236 | 895 |
| 2011 | 2589 | 6575 | 3814 | 2761 |
| 2012 | 2826 | 7754 | 4297 | 345 |
The food bank currently has over 35 dedicated volunteers who donate many hours of service to the people of Pickering-Ajax. In December they contributed over 600 volunteer hours. Thank you.
DECEMBER 2012
December is our busiest month of the year. Donations are received from community schools, sports teams, local businesses and individuals. Just to give you an idea of who helps the food bank here are some of food drives running December:
Wright's Lights
The Wright family lights up their front yard for Christmas while collecting food and financial donations for the Food Bank. In 2011 they raised roughly $7,000 and 3500 pounds of food. Congratulations to the Wright family and thank you for your support.
Scanga Family Food Drive
You may have seen the article in the Nov 30th NewsAdvertiser about this food drive that runs from Dec 2 to 23. Please look for their donation boxes int the stores located at 3 Harwood Ave S.in Ajax and in other stores in the Ajax-Pickering area. A BIG thank you to Nino Scanga, Andy Scanga and all of their helpers.
Kill the Messenger
This local band is hosting a food drive at their show on Sat. December 8th at the Top Shelf, 527 Westney Rd S, Ajax. Thanks to the band for helping out in their community.
NOVEMBER 2012
Food Bank Stats
The Food Bank extends grateful thanks to the community for its generous and ongoing support. We appreciate the donations of food and money that allow us to serve the many needy families in our community.
The number of people who require emergency food assistance is growing each month. The chart below compares the activity in 2011 to 2012 for the period from June to October. In 2012 the total number of people fed has increased by 20% and the number of new registrants is up by over 50%.
| | | | | | |
| --- | --- | --- | --- | --- | --- |
| June-Oct | # Of clients | # Of Adults | # Of Children | Total Fed | New Registrants |
| 2011 | 967 | 1413 | 1063 | 2476 | 48 |
| 2012 | 1163 | 1686 | 1288 | 2977 | 74 |
Your children are watching….
In many homes and at school, children copy what they see and hear. We are fortunate to have so many of our local schools who support the food bank by running food drives. At school the children learn about the needs in their community and are happy to share but some really take it to heart. Here are two such cases:
One little girl was planning her 6th birthday party and she asked her guests to contribute $2.00 each and bring some canned goods for the food bank. After the party she came to the food bank and donated over $75.00.
The second young girl also wanted to do a fundraiser. Her school was already organizing a food drive for us but she wanted to do more. She held a bake sale and with help from Mom she made cupcakes and sold them to her friends at a dance studio and at her school. Another $100.00 was donated to the food bank.
Thank you to the parents who supported the girls and encouraged them to help people in their community

.
The Rotary Club of Pickering
On Wed. Nov 14th the Rotary Club of Pickering held their annual Community Celebration Event and we were presented with a cheque. Thank you to the members of the Rotary Club of Pickering for your support of our food bank and the many other agencies that serve the communities of Pickering – Ajax.
If you would like more information about The Rotary Club of Pickering "click here"
SEPTEMBER 2012
Summer Report
We have been very busy serving clients this summer since we were only open on Tuesdays through July and August. Serving so many people in a 2 hour/week window has proved to be very stressful. In future, we have decided to remain open Tuesdays and Fridays from 10 AM to Noon, year round (holidays excepted) since more and more people are relying on food supplements. The increase in need is evident in the following chart comparing June - August 2011 to 2012.
New Registrants Total Clients Served
2011 22 521
2012 37 658
Pickering Town Centre
The Farmer's Market has been going strong every Tuesday through the summer. Even the heavy rains which only seem to show up on Tuesdays, have not dampened the enthusiasm of participants. Food donations for area food banks are being received at the market so please remember us on your next visit. Food collected there is being distributed to to St. Paul's and to Salvation Army's House of Hope.
On September 12, Chefs Vito and Billy from Liaison College plus 4 students created some wonderful food offerings using food from Food Bank hampers. Visit the PTC website to view their preparations.
Feed The Soul
Enjoy a "steaksgiving" dinner at Casey's Bar & Grill and support your local food bank at the same time. From Sept. 3 - Oct. 8, Casey's will donate $1 for each meal selected from a special menu to the Ontario Assoc. of Food Banks . See the link for more details.
Whitby-Ajax Community Gardens
Each week our clients have been receiving fresh vegetables in their food basket thanks to the gardeners at W.A.C.G.
A truckload of produce has been arriving at our door each week through the summer delivered by Mary Drummond. The carrots, tomatoes, beans, beetroot, okra and caliloo are especially appreciated by our clients. A great big thank you goes out to W.A.C.G. If you are interested in volunteering at the gardens, please follow the link here.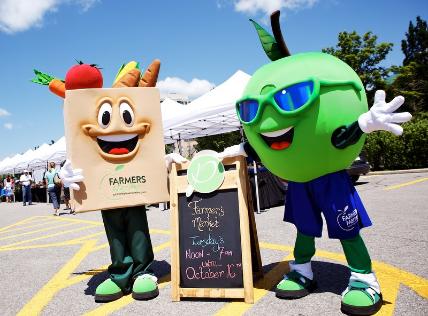 Come and meet Fill & Slice at the Pickering Town Centre Farmer's Market every Tuesday until October 16, from Noon until 7 P.M.
When visiting remember to bring a food donation for the food bank. Check the Current Needs page for suggested items.

Pickering Cares Food Drive is scheduled for May 12. All food collected will benefit local clients using St. Paul's on-the-Hill Community Food Bank AND House of Hope (Salvation Army) in Ajax.
You can help too. Please click here for more information.
April 2012
On April 1, 2012, over 60 friends and family members gathered to honour Rae Coulter for her years of service at the Food Bank. Rae was presented with a plaque to commemorate the occasion. She is pictured here with (L-R) Rev. Canon Kim Beard, Pam Johnstone, Margaret Jocz and Bruce Hampson.
Grateful thanks to Ontario Power Generation for providing space to host the event at the Pickering Nuclear Information Center and to Pickeringonline.info for the photographs.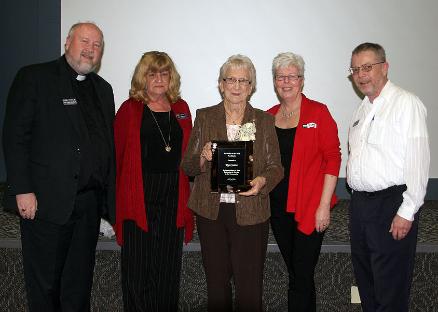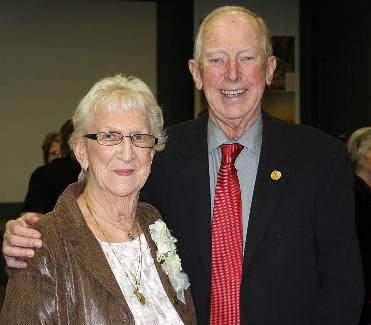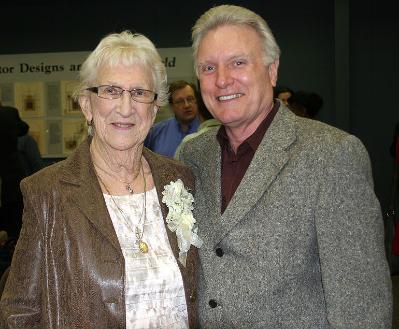 With PIckering-Ajax MPP, Joe Dickson
With Pickering Mayor, Dave Ryan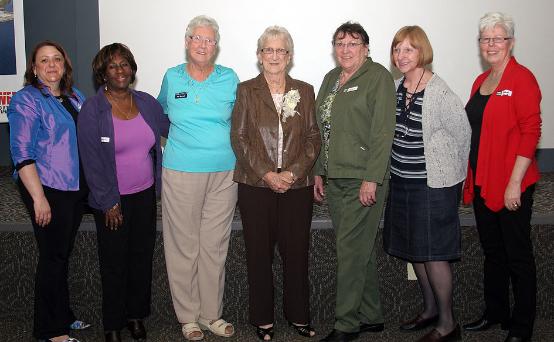 With the Food Bank executive committee
March 2012
Are you a golfer? Our 3rd annual golf tournament is being held on July 19 at Glen Cedars Golf Course. Please refer to the flyer for additional details.
February 2012
The warehouse volunteer positions have all been filled. Thanks to everyone who responded to the recent article in the News Advertiser. Your offers of help and support are greatly appreciated and remind us once again of the generous support for the Food Bank that exists in this community.
January 2012
Message from Director, Rae Coulter
To all my friends and supporters of the St. Paul's on-the-Hill Community Food Bank:
It is with mixed feelings that I announce that I will be retiring from my role as the Director of the St. Paul's-on-the-Hill Community Food Bank. I feel it is time to hand over the reins which will give me an opportunity and time to take on some new challenges. My years at the Food Bank have been so very rewarding and, together, we have made a positive impact in our community. I have met and formed lasting friendships with many wonderful people who I will miss but will always hold dear in my heart. With your help, the St. Paul's on-the-Hill Community Food Bank will continue helping out the needy in our community. Your support over the years has been so appreciated and I would like to send you my personal thank-you for being there when your community needed you. Keep up the great work!
My best wishes to Margaret.Jocz who will be stepping in to replace me. Thanks again for all your help.
Rae Coulter, Director, St. Paul's Community Food Bank
Friends and supporters of the Food Bank would like Rae to know how much her dedication and leadership has been appreciated over many years. Rae, we all wish you the very best in the future.
December 2011
Our Christmas food drives are in full swing. Thank you to all our donors and volunteers who have supported us so faithfully through this year. Merry Christmas to all and a Happy New Year!
November 2011
St. Paul's on the Hill Community Food Bank would like to thank everyone in the Ajax and Pickering area for all of the donations received during the Thanksgiving Food Drive.
Here are some contributors that we would like to recognize for their strong support:
Walmart, Pickering
Cineplex 8, Pickering
Vaughn Willard P.S.
Bayview Heights P.S.
October 2011
Our 2nd annual golf tournament held on June 22 at Glen Cedars Golf Course raised over $16,000 for the food bank. The cheque was presented by Kevin Cahill and Grant Bridges to Director Rae Coulter in October. A great big "THANK YOU" to the organizers and participants in this event. You make us smile!