St Paul's on-the-Hill Community Food Bank serving Ajax and Pickering
THANK YOU!
Thank you to everyone who donated food items, gift cards or financial support during this year's Thanksgiving Food Drive. Our shelves were getting pretty bare in September so this food drive helps us to restock our much needed food items.
In September 2016 we gave out 309 hampers of non-perishable food items to our clients. In addition, clients received cereal, flour, sugar, rice, coffee, tea, juice, lunch snacks, cookies, milk and eggs. Formula, baby cereal, diapers and baby food was also provided as needed.
A BIG thank you to Whitby-Ajax Community Gardens (Victoria and Bryan) and the Pickering Community Garden (Marjory & Pam) for their weekly delivery of fresh vegetables again this year. Also thanks to Mr. McInnes for his rhubarb and other produce. Each summer our clients look forward to receiving the fresh produce grown by these volunteer gardeners. The vegetables delivered give food bank clients a welcome break from canned goods. They truly appreciate the fresh carrots, zucchini, calliloo, tomatoes, green beans and many other vegetables.
Any food bank client will tell you that relying on high sodium, non-perishable food, is not part of a healthy diet. Fresh vegetables enhance the nutritional value of the food we can provide to our clients. Often the dirt was still on the vegetables....that is fresh!
Other items clients appreciate (but we do not advertise for) are personal hygiene products for both men and women. Toilet paper, shampoo, tooth brushes and tooth paste, body wash, shaving cream, and feminine hygiene items are just some suggestions.
Now that Thanksgiving is complete, we will start looking to Christmas. Have you thought of doing a Reverse Advent Box? I saw that on Facebook. Did you?
More information regarding our Christmas Hamper Donations and Sponsorship program will be posted soon.
Thank you again, for all you do.
A Reminder About Donations
When supporting the food bank with a financial contribution please mail it to:
St. Paul's on-the-Hill Food Bank:
882 Kingston Rd. Pickering, ON
L1V 1A8
Att: Mrs. P. Bennett.
When supporting the food bank with non-perishable food items, your donation can be dropped off at our warehouse during business hours:
Parkway Storage
1535 Pickering Parkway, Pickering
Buzz the keypad at the main gates to speak with the manager.
NOTE: The food bank now accepts donations through PayPal. Follow the link on our On-line Donations page.
Thank you for supporting your local food bank.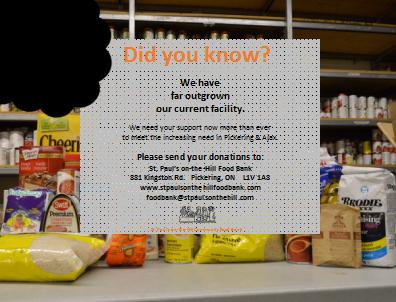 Thank you to everyone who joined us on Thursday, April 7th at Petticoat Creek Library to learn more about the growing need in your community. Not only the need for more food donations and financial support but the need of the food bank for a bigger facility.
The food bank moved into its current location in November 2001 but due to increased demand and wonderful support from the community and volunteers we require more space.
Thank you to Mayor Dave Ryan for coming out and addressing the 85 people who attended this meeting. Also thank you to Dave Staley for sharing his experiences as a food bank client and Tyler Allan from Allan's Your Independent Grocer who spoke about the many benefits of being a community partner with St. Paul's on-the-Hill Community Food Bank.
Click here for a tour of your food bank and how it continues to meet the needs of Pickering and Ajax and the challenges it faces. If you have any comments or questions please send us an email. foodbank@stpaulsonthehill.com
Food Bank Survey
Here are results from the recent food bank survey. Thank you to everyone who participated. Your input concerning YOUR food bank is very important.
132 individuals responded, including 82 food bank clients and 33 volunteers

71% of clients visit the food bank twice per month (maximum allowable)

75% have been clients for 3 years or less

75% of our volunteers have been with the food bank for over 4 years

Over 90% of clients believe the food portion they receive is adequate

30% of our clients walk to the food bank
Food Banks In Need
To watch a short video aired by Global News in 2014 covering some Toronto area food banks and including footage shot at St. Paul's on the Hill Community Food Bank, click here.
Are You Planning A Food Drive?
If so, please don't forget to include donation delivery in your plans. We have very limited ability to pick up large accumulations of donated food. We have no paid staff and no vehicles other than those operated by our volunteers. Donated food may be dropped off at Parkway Storage Units, preferably during food bank operating hours. To arrange delivery at other times, please contact us.
What do you think of when you hear the word FOOD DRIVE? If you are like most people you would answer - non-perishable items like soup, canned vegetables, tuna, canned spaghetti, baked beans dry pasta and of course, Kraft Dinner. All of these items are important to us and we appreciate receiving them. However, there are other food items just as important but we never have enough: breakfast cereal, tea bags, instant coffee, sugar, cookies, crackers, luncheon snacks, dessert mixes (i.e. muffin mix/brownie mix) dry soup mix, condiments, toilet paper and personal hygiene products.
Statistics show that children learn better and behave better in school if they are not hungry. On average, we serve 60 families each week so we are always in need of breakfast and lunch foods and snacks. The next time you are thinking of donating to our food bank, please visit the Current Needs page.for suggested items or contact us via email.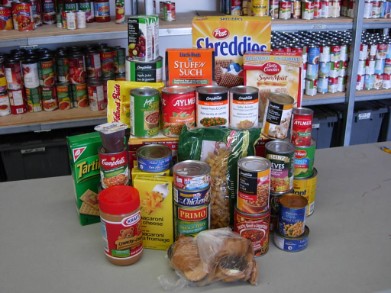 About Us
Established in 1991 as a temporary outreach program by some members of St. Paul's on-the-Hill Anglican Church, the food bank has outgrown several locations.
Unfortunately, the need has not diminished over the years but the base has broadened. We now draw volunteers from across the local community. Over fifty individuals regularly donate their time and efforts to keep the food bank operating. We are also generously supported by many individuals, businesses and organizations. Without the strong support of the community we could not continue to operate.
The food bank is staffed entirely by volunteers. 100% of funds raised are used to operate the food bank and buy food.
The food bank is open to clients on Tuesday and Friday mornings from 10 AM - 12 Noon.
Help Us
We depend on the generosity of community members who support our mission and vision. You can help too by contributing food or making a donation. Because food collection is uncoordinated, we often end up with too much of one item and not enough of another. You can help us stock our shelves based on current need. Please check our Current Needs page for the foods in short supply.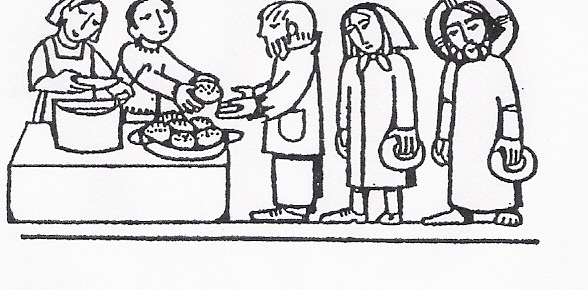 1537 Pickering Parkway, Pickering, ON | (905) 839-9537