Serving the residents of Pickering and Ajax since 1990

It has come to our attention that some cheques made out to St. Paul's on-the-Hill Food bank have been fraudulently deposited into other accounts. If you sent a cheque intended for the food bank during the month of April and have not received an acknowledgement via a tax receipt or a thank you letter, please contact us at foodbank@stpaulsonthehill.com or leave a message at 905-839-9357.
How do I register to use the food bank? Visit the Client Information page
here
or go directly to
On-line Registration
Where do I drop off (large) food drive donations?
Click here
2020 Christmas Hamper Program
For many years St. Paul's on-the-Hill Church has supported food bank clients with donations of extra food and gifts at Christmas time. This year, to conform with Covid-19 health and safety protocols, we plan to support about 180 families through gifts of gift cards so they can purchase necessities and gifts themselves at Walmart and Loblaws stores.
How Can You Help?
We are asking for financial contributions so that the organizing team at the Christmas Hamper Program 2020 can purchase gift cards. We are also asking for donations of Walmart and Loblaws gift cards. All donations of money and gift cards must be received by November 13, 2020.
Here's how we can safely accept donations:
By Mail: Make cheques out to St. Paul's On-the-Hill Anglican Church, 882 Kingston Road, Pickering, Ontario L1V 1A8. Please mark "Christmas Hampers" on both the envelope and on the cheque itself so the funds get properly directed.
e-transfer: Send to e-donations@stpaulsonthehill.com and use "donation" as the answer to the security question. Show "Christmas Hampers" in the remarks field on the etransfer.
Remember: Include your name and address information for tax purposes. (Note: Tax receipts cannot be given for gift cards.) If there is no space in the e-transfer notes area, send the contact information by email to ephipps@rogers.com.
Help us stay organized: Please send a quick email to ephipps@rogers.com with the amount of your donation so we can keep track.
Thank you for supporting the needs of our community through the 2020 Christmas Hamper program.
This year, your help is needed more than ever.
Thank you to all who supported the food bank during our Thanksgiving food drive. We have collected enough food to restock our shelves. We have seen a steady increase in client visits so far through 2020 and we expect that trend to continue. We could not do what we do without the great community support that has sustained us throughout the past 30 years!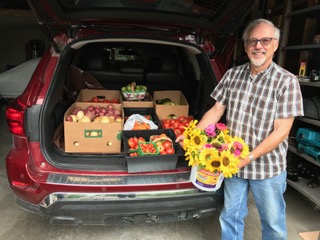 A very special thank you to Harold Quinton and his associates at Durham Heritage Gas & Steam Society in Claremont. They have planted a large vegetable garden exclusively for food bank clients and have already delivered over 3000 pounds of fresh vegetables.and fruit. The season is rapidly coming to a close but we have been assured that they will continue in the future.
Our clients are so grateful to receive fresh produce in addition to the boxed and canned goods they ordinarily receive.
THANK YOU!
The food bank has always relied on schools, churches, businesses, service clubs and residents to run major food drives. Normally we receive enough food collected from Thanksgiving to Christmas to sustain us until Spring. Of course this year
is anything but normal. Covid-19 has not only steadily increased the number of clients we are serving but has also cut off our normal supply.
There are three ways you can help:
1. Add some items for the food bank to your shopping list when shopping for groceries. Donation bins are conveniently located at many local supermarkets.
2. Make a financial donation using PayPal or e-transfer on this website.
3. Convert your points into gift cards and donate them.
Surprisingly, the one thing we have more of than we can use is volunteers At this point we can't use any more!
Order this 2021 calendar featuring scenes in Pickering
And support the food bank!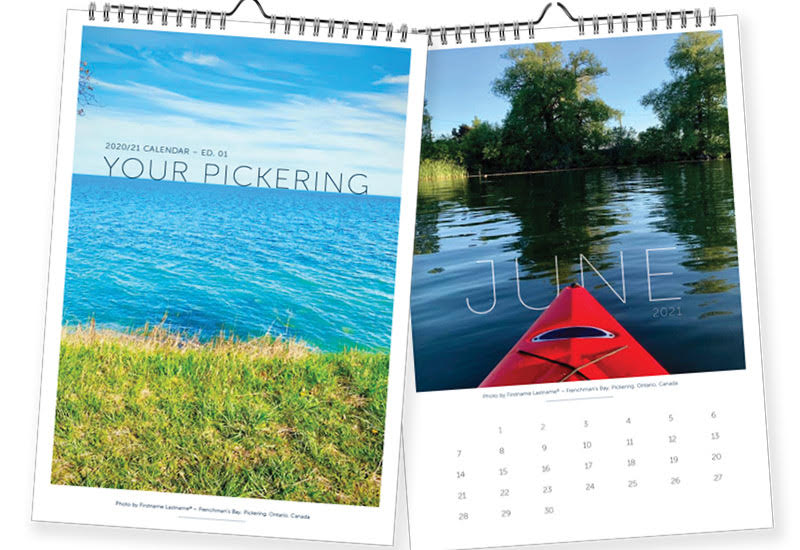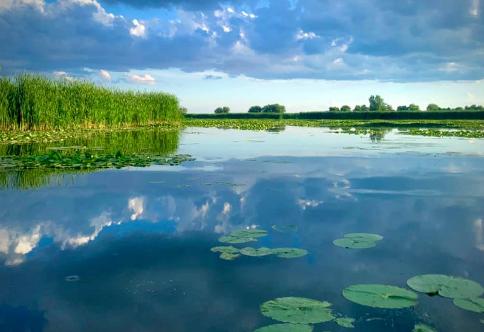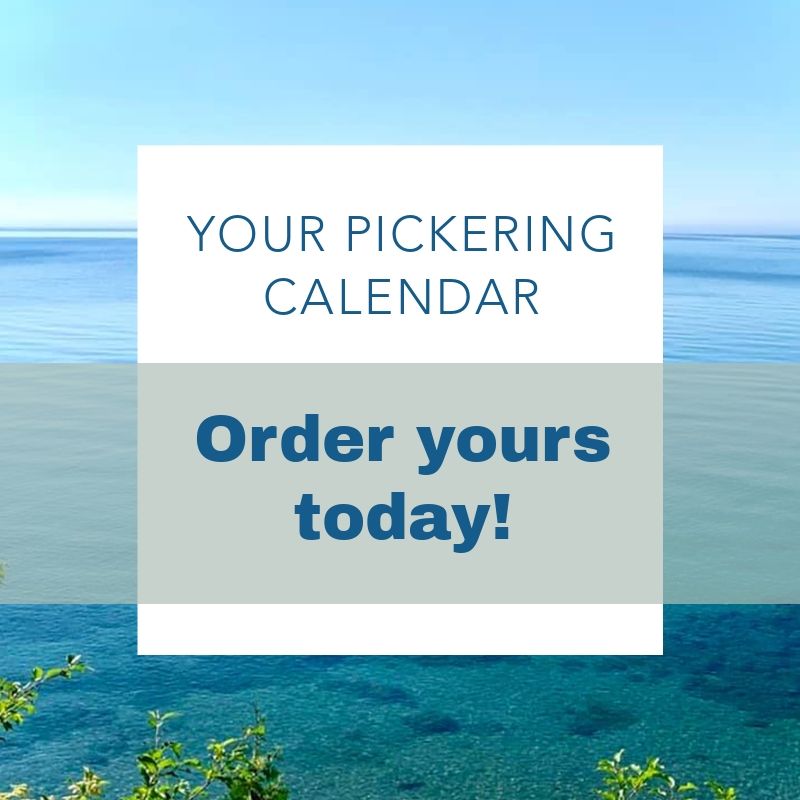 We are so proud to partner with this grassroots initiative and look forward to seeing these beautiful calendars
click here to purchase yours today
#YourPickering #PickeringProud #DurhamStrong
A Call For Bundle Buggies
Many of our clients walk to the food bank and cannot afford the cost of a bundle buggy. We don't just need food and financial support. Please consider a bundle buggy donation.
During the COVID-19 pandemic
When
visiting
the Food Bank to drop off donations PLEASE wear a mask.
Clients coming for food assistance are also asked to wear masks.
If you are under
quarantine
or not feeling well, DO NOT come to the Food Bank. Call us at 905-839-9537 for special arrangements.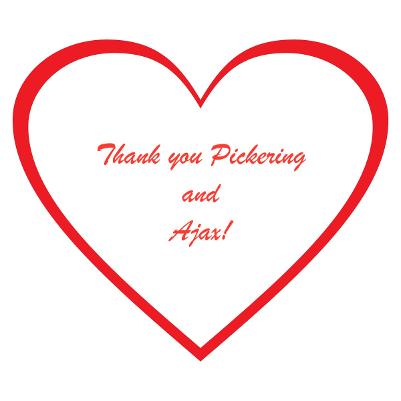 Residents of Pickering and Ajax have been extremely generous in the past few weeks by providing financial support and by donating food items. Many of our friends and neighbours have had to turn to the food bank for help but thanks to your support we are shopping in area grocery stores and refilling our shelves.

We are working hard to keep both clients and our dedicated volunteers safe and healthy during this time.

THANK YOU SO MUCH
TAX RECEIPTS: If you have made a financial donation recently and have not received a receipt, please contact us. Some donations made via E-Transfer or PayPal do not include full mailing addresses.
TO OUR CLIENTS
The Food Bank remains open on Tuesdays and Fridays from 10-12 however we are implementing some new procedures to help keep our clients and volunteers safe. Please follow the directions of the volunteers who greet you at the door

Remember to wash your hands and maintain social distancing and wear a protective face mask whenever possible.
If you are visiting us for the first time, please pre-register here. It will save time at the door.
If you are sick, please stay away and call Caremongers at 1-888-573-0982 for assistance. A volunteer will pick up your order from the food bank and deliver it to your front door. Click the PDF below for more information.
3 Ways You Can Support The Food Bank
1. GIFT CARDS
We can buy what we need when we need it




No long term food storage




Less inventory to track




Gift in kind income tax receipts are available



2. FINANCIAL SUPPORT
We don't just buy food. Our operating expenses include:

Rent, hydro, heating, equipment & maintenance, office supplies and more



We accept PayPal

3. FOOD DRIVE
An excellent way to raise awareness at school, work or for the family

Please always make delivery part of your plan
Seldom do we have the opportunity to know how the food bank affects the lives of the people we serve but occasionally we do. Here is a heart warming story from a former client who recalls attending the food bank with his mother. You can read his story
here.
A Reminder About Donations by Cheque
When supporting the food bank with a financial contribution please make it payable to St. Paul's on-the-Hill Food Bank
Mailing address: 882 Kingston Rd. Pickering, ON L1V 1A8 Attn: Food Bank.
We also accept grocery store gift cards and online donations through PayPal.
Thank you for supporting your local food bank.
Are You Planning A Food Drive?
If so, please don't forget to include donation delivery in your plans. We have very limited ability to pick up large accumulations of donated food. We have no paid staff and no vehicles other than those operated by our volunteers. Donated food may be dropped off at Parkway Storage Units, preferably during food bank operating hours. To arrange delivery at other times, please contact us.
What do you think of when you hear the word FOOD DRIVE? If you are like most people you would answer - non-perishable items like soup, canned vegetables, tuna, canned spaghetti, baked beans dry pasta and of course, Kraft Dinner. All of these items are important to us and we appreciate receiving them. However, there are other food items just as important but we never have enough: breakfast cereal, tea bags, instant coffee, sugar, cookies, crackers, luncheon snacks, dessert mixes (i.e. muffin mix/brownie mix) dry soup mix, condiments, toilet paper and personal hygiene products.
Statistics show that children learn better and behave better in school if they are not hungry. On average, we serve 60 families each week so we are always in need of breakfast and lunch foods and snacks. The next time you are thinking of donating to our food bank, please visit the Current Needs page.for suggested items or contact us via email.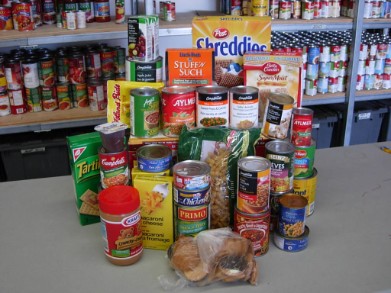 About Us
Established in 1990 as a temporary outreach program by some members of St. Paul's on-the-Hill Anglican Church, the food bank has outgrown several locations.
Unfortunately, the need has not diminished over the years but the base has broadened. We now draw volunteers from across the local community. Over thirty individuals regularly donate their time and efforts to keep the food bank operating. We are also generously supported by many individuals, businesses and organizations. Without the strong support of the community we could not continue to operate.
The food bank is staffed entirely by volunteers. 100% of funds raised are used to operate the food bank and buy food.
The food bank is open to clients on Tuesday and Friday mornings from 10 AM - 12 Noon.
Help Us
We depend on the generosity of community members who support our mission and vision. You can help too by contributing food or making a donation. Because food collection is uncoordinated, we often end up with too much of one item and not enough of another. You can help us stock our shelves based on current need. Please check our Current Needs page for the foods in short supply.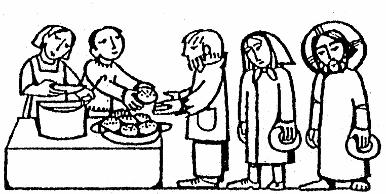 1537 Pickering Parkway, Pickering, ON | (905) 839-9537