Our mission is to provide a nutritional supply of food in a welcoming and supportive environment
to residents of the City of Pickering and Town of Ajax

COVID UPDATE
The food bank is considered an essential service and therefore will be OPEN every Tuesday and Friday from 10 to noon to serve residents of Pickering and Ajax.
When
visiting
the Food Bank you must wear a mask.
If you or any
members
of your household are under
quarantine
or not feeling well,
DO NOT come to the Food Bank.
Call us at 905-839-9537 to make special arrangements.
If you have food to drop off during this period please email us for instructions. Please DO NOT leave food donations at our front door when the food bank is closed. Contact us for more details.

Volunteer Opportunities
For more details, please contact us by
email.
There are 2 volunteer positions available at the food bank at this time.
Able to commit your time to either Tuesday and/or Friday mornings

Capable of lifting up to 35 lbs and climbing a step ladder

Customer friendly and able to work with a team of dedicated volunteers



THANK YOU TO OUR GROCERY STORE SUPPORTERS
We want to acknowledge the tremendous support we have received for many years from our area grocery stores. They tirelessly collect donations, organize food drives, encourage the use of gift cards and support bulk buying of the food items we have to purchase.
A BIG THANK YOU to:
Loblaws Pickering Market, Allans YIG, Metro Foods, Kingston & Whites Freshco, DaCosta No Frills, Food Basics, Sobey's Ajax and Sobeys South Ajax.
Pictured below left: Dave Skitch, Manager, Metro Foods, presents funds raised during the holiday season to food bank volunteers. Right: Melissa Cox, Manager, Sobeys South Ajax, presents gift cards donated during the holiday season to Margaret Jocz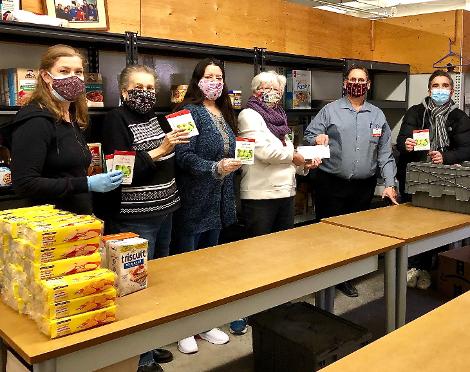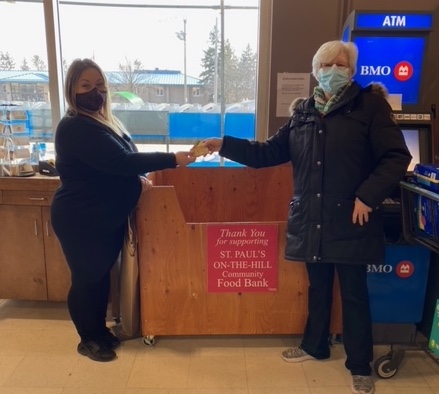 Thank You For Your Support
We appreciate all the donations and support that comes from our community. Without you, we cannot help those facing food insecurity here in Pickering and Ajax. We received support from local business, social groups, schools, grocery stores and many more.
How do I register to use the food bank? Visit the Client Information page
here
or go directly to
On-line Registration
No appointments are necessary to visit the food bank. Once you have completed the registration, come in any Tuesday or Friday from 10 AM to Noon.
TO OUR CLIENTS

The Food Bank remains open on Tuesdays and Fridays from 10-12 however we are implementing some new procedures to help keep our clients and volunteers safe. Please follow the directions of the volunteers who greet you at the door

Remember to wash your hands and maintain social distancing and wear a protective face mask whenever possible.
If you are visiting us for the first time, please pre-register here. It will save time at the door.
If you are sick, please stay away and call Caremongers at 1-888-573-0982 for assistance. A volunteer will pick up your order from the food bank and deliver it to your front door. Click the PDF below for more information.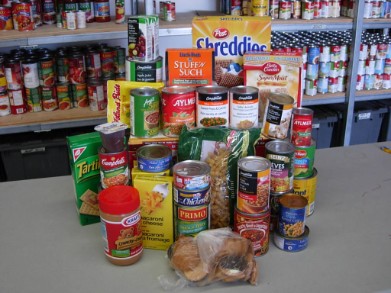 About Us
Established in 1990 as a temporary outreach program by some members of St. Paul's on-the-Hill Anglican Church, the food bank has outgrown several locations.
Unfortunately, the need has not diminished over the years but the base has broadened. We now draw volunteers from across the local community. Over thirty individuals regularly donate their time and efforts to keep the food bank operating. We are also generously supported by many individuals, businesses and organizations. Without the strong support of the community we could not continue to operate.
The food bank is staffed entirely by volunteers. 100% of funds raised are used to operate the food bank and buy food.
The food bank is open to clients on Tuesday and Friday mornings from 10 AM - 12 Noon.
Help Us
We depend on the generosity of community members who support our mission and vision. You can help too by contributing food or making a donation. Because food collection is uncoordinated, we often end up with too much of one item and not enough of another. You can help us stock our shelves based on current need. Please check our Current Needs page for the foods in short supply.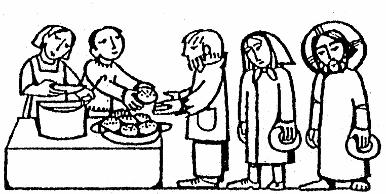 1537 Pickering Parkway, Pickering, ON | (905) 839-9537