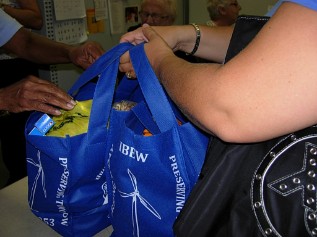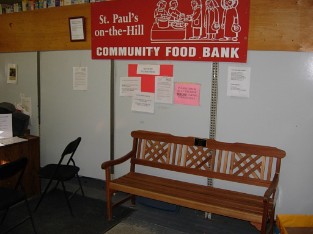 Special procedures are in place during the COVID-19 outbreak
If you are visiting us for the first time please pre-register with us by using one of the following options:
Call 905-839-9537 after 9 A.M. on the day you plan to visit (see hours of operation below).
Complete the on-line registration form here
If you do not pre-register you will be asked to complete an application form on arrival. Please let us know that this is your first food bank visit.
PLEASE NOTE: One one client at a time is permitted inside the Food Bank. Please continue to wear your masks and maintain social distancing while waiting outside. Bring reusable grocery bags.
Hours Of Operation
We are open every Tuesday and Friday morning from 10 A.M. to Noon (except holidays)
Location
We are located at Parkway Storage, 1535 Pickering Parkway, east of Valley Farm Road, next to the carwash. Our door faces the street and is numbered 1537.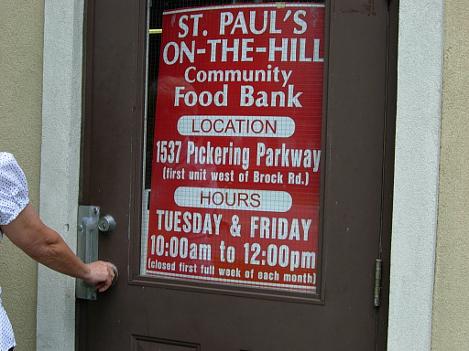 Proof of address (Ajax or Pickering residents)




Proof of ALL income for the household including spousal income and the income of any other adults living in the home




Names of all dependents in the household.



Who is a dependent?
Any person living in the household for whom you are financially responsible. Their names and ages will be listed on your government forms (e.g. Ontario Works).



How often may I access the Food Bank?
You are allowed a maximum of 2 visits per month.



Are there other Food Banks in the area?
Yes, there are 3 other food banks nearby: House of Hope (

Salvation Army)

The Store Front & Christian Life Centre. All are in Ajax.
What food will I receive in my hamper?
You can expect to receive a box of non perishable foods plus a choice of cereal, peanut butter, snacks tea, coffee, sugar, flour, juice, milk and eggs, bread and other items (

subject to availability).



How do I contact the Food Bank?

Call 905-839-9537 and leave a voice message; or email

foodbank@stpaulsonthehill.com. You will be contacted as soon as possible. You may also use the Contact Us page in this site to send us an email.



Where does the food come from?

Our food is donated by the people of Ajax-Pickering through mass food drives or individual donations. Fund raising by the food bank covers the cost of fresh milk and eggs.



What information is required to register?