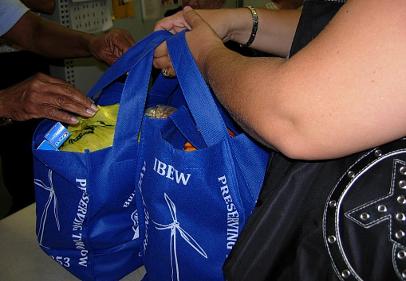 June 2020NOTE:
When visiting the food bank to drop off donations, PLEASE wear a mask.
Thank you to everyone who donated food items or provided financial support to us throughout the years.
The food bank can also use clean, REUSABLE GROCERY BAGS. Please include any extra bags you have with your donation.
Please consider donating gift cards from local grocery stores too. With gift cards we can purchase items we need when we need them and better manage storage space and expiry dates.
Remember: If you are planning a large food drive please make delivery drop off part of your plan. See Donor Information Page for more details.
If you have a some extra protective masks to share, our front line volunteers would be appreciative.
Our more current needs during the Covid 19 crisis:
Canned Mixed Vegetables

Soup and Stews
Canned Fruit

Canned Pasta
Tuna & Salmon
Canned Meats (Turkey, Chicken, Corn Beef, Ham etc)
Pasta Sauce
Canned Potatoes
Cookies & Crackers
Meal Helpers (Boxed Potatoes, SideKicks)

Luncheon Snacks (puddings, fruit cups, granola bar etc. *Nut Free)
Cheese Whiz, Nutella
Kraft Dinner

Juice- 1L size & Tetra pak (various flavours)
Instant Coffee, Tea
Formula (all brands)
All Purpose Flour
Infant Cereal
NOTE: We do not require the following items at this time:
Dry Pasta Noodles, Odd Beans, Baked Beans or Jarred Baby Foods. Diapers, Hygiene Products,
Thank you for your generosity.