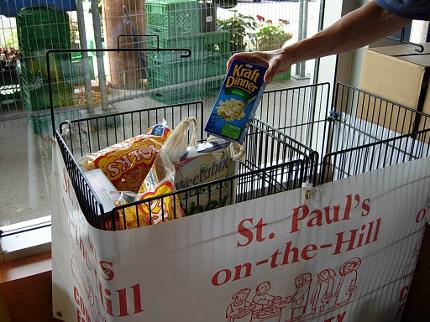 NOVEMBER 2022

Below is a list of our most needed items. Those marked with an (**) are urgently needed.
(please be sure all items are within the best by/expiration dates, thank you!)
To arranged delivery of your food drive items, please contact Lindsey at info.foodbank@stpaulsonthehill.com
Kraft Dinner **
Breakfast Cereals **
Oatmeal **
Pancake Mix
Condiments
Canned Fruit **
Canned Meats
Canned Tuna **
Juice boxes **
Fruit cups
Small containers of Instant Coffee **
Tea **
Canned Pasta (Alpha-ghetti etc.)
Dry Pasta Noodles
Soup (Large cans/Hearty style) **
Canned Vegetables**
Pasta Sauce
Canned Tomatoes
Crackers
Cooking Oil **
Canned Baked Beans **
Dry Beans **
Rice**
Flour**
2 kg bags of Granulated Sugar **
Spreads (Jams, Nutella, etc)
Peanut Butter
Granola Bars
Non-Dairy Milk
Baby Wipes
Diapers (size 5 to 6 & Pullups)
Feminine Hygiene Products**
Body Wash/Soap**
Men's and Women's Deodorant**
The number of families relying on food banks has grown exponentially over the past few months. Your support is greatly needed and truly appreciated. Thank you on behalf of all our clients and volunteers!